ONLINE via Zoom
Saturdays once a month | 3:00-4:00 PM | Adults
August 28
September 25
October 23
November 20
December 18

CLICK FOR ZOOM LINK for meeting each month.
Join us for the Romance Book Club! We try and read as many romance genres as we can, sharing our thoughts and expanding our romance reading experience. As long as it has a happily ever after, it's fair game.
Typically each month we choose the book for the following month.

September Book Choice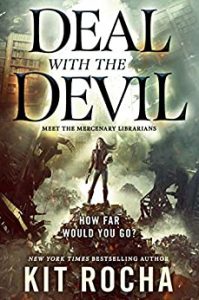 We will be reading
Deal With The Devil by Kit Rocha
.
Nina is an information broker with a mission—she and her team of mercenary librarians use their knowledge to save the hopeless in a crumbling America.
Knox is the bitter, battle-weary captain of the Silver Devils. His squad of supersoldiers went AWOL to avoid slaughtering innocents, and now he's fighting to survive.
They're on a deadly collision course, and the passion that flares between them only makes it more dangerous. They could burn down the world, destroying each other in the process… Or they could do the impossible: team up.
Catalog link for print
Hoopla link (e-audiobook on demand, no waiting)
Overdrive link (e-book and e-audiobook)
See previous group book choices below the group guidelines – scroll down.
Our Romance collection librarian will tell you all about exciting additions to the collection, and we'll get your input on what you'd like to see more of and what we should read.

One Saturday a month, 3-4 pm, online via Zoom. Register if you'd like to be added to our email list, but no registration is required – just join us at the Zoom link, above. For adults 18+.
Please email Elizabeth McKinstry at emckinstry@springfieldlibrary.org or Anna Mickelsen at amickelsen@springfieldlibrary.org if you have any questions, or call either one of us at 413-263-6828.
---
Group Guidelines
The book group will meet monthly via zoom to discuss books in the romance genre. Our definition of romance includes both HEA (Happily Ever After) and HFN (Happy For Now) endings. We will discuss what we read on our own, talk about forthcoming titles, and also pick books to read as a group, either voting on titles prepared by group leaders or taking turns selecting titles.
This book group will strive to be a safe and inclusive space. Racist and homophobic remarks will not be tolerated, and the group may set other content lines to be drawn in discussion or in reading material (e.g., mentions of self-harm, gore, sexual assault) in order to make the experience as fun for all participants as possible. As this is a romance book group, it should be assumed that books read and discussed will often include sex, sometimes explicit in nature.
Book group leaders will:
Read the entire book
Gather information to help enhance the discussion
Be prepared to offer counter opinions – even if they differ from our own
Be prepared to begin new lines of discussion when necessary
Not let one person monopolize the discussion
Be willing and prepared to take control of the group, firmly but respectfully
Book group participants will:
Make their best effort to complete the book
Come ready to both share and listen
Be ready to back up opinions with the "why"
Have a great time — if you stop enjoying it, let the leader know
---
Previous books read: