Welcome to the Makerspace!
The East Forest Park Branch Makerspace is a place you can visit for free to use our selection of equipment to create, craft, tinker, and experiment! On this page you can learn more about what is available in the Makerspace and see our upcoming Program & Events.
● Equipment  ● 3D Printing  ● Programs & Events  ● What is a Makerspace?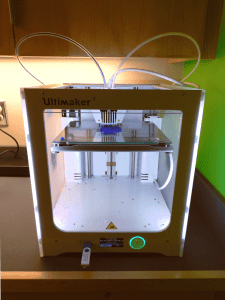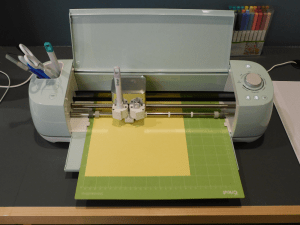 Our 3D Printer and Cricut Paper Cutting Machine hard at work.

Equipment
Audio Recording Equipment
Sewing Machine
Cricut Cutter Machine
Cricut Easypress 2 (2)
Programmable Robots
Wood Burning Pens (2)
Ultimaker 3D Printers (2)
3D Printing
Are you interested in printing a 3-dimensional item? You've come to the right place! You can begin by reading our 3D Printing Policy. If you have questions, give us a call at the East Forest Park Branch.
If you have a 3D Printing request to submit, please fill out the form below.
Programs & Events

There will be a variety of projects and experiments to get you and your family started exploring and creating! | East Forest Park | All Ages

In this class Tweens, aged 10-13, will be taught the basics of hand sewing while working on various projects throughout the series. | East Forest Park | Children
What is a Makerspace?
The Springfield City Library is a hub for free access to information and technology, social and civic engagement, and support of personal enrichment, well being, and lifelong learning. In support of this mission, the Library provides a community workspace where people with common interests can socialize and collaborate. This workspace is commonly known as a Makerspace, a place for crafting, tinkering, and experimentation with technologies like 3D printing, sewing machines, and recording equpiment, all of which are available at the East Forest Park Branch. The library hopes to cultivate a network of creative community makers that are interested in tinkering for professional, educational, or personal reasons. The Makerspace is a place to create, invent, and learn.
Click Here to View Our Makerspace Policy