What is a Chromebook?
A Chromebook is a small laptop running software by Google, which allows you to access an internet browser via a Wi-Fi internet connection. The Chromebook has speakers and a camera that can be used for pictures or video. It also comes with a carrying case and power cord.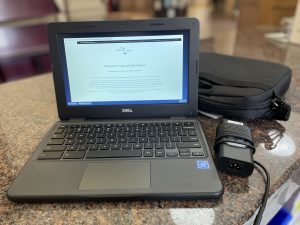 Who is eligible to borrow a Chromebook?
Chromebook borrowers must be 18 years old and in good standing with the library. Only one Chromebook is allowed per card holder.
How long can I borrow a Chromebook?
Chromebooks may be borrowed for 14 days. If the Chromebook is not returned within 3 days after the due date, the device will be turned off and it will become unusable. Renewals are not permitted.
How do I check out and return a Chromebook from the library?
Chromebooks must be borrowed from and returned to the library circulation desk.
CLICK TO CHECK CHROMEBOOK AVAILABILITY IN THE CATALOG.
Please return the Chromebook in person to a staff member at the same library location where you borrowed it, so they can clear it, and get it ready for the next person. Do NOT return the Chromebook in the book drop.
Chromebooks should be returned with the power cord and carrying case to the library in the same good working condition as they were when checked out. Please return the Chromebook fully charged.
What if I don't have an internet Wi-Fi connection at home?
We have mobile hotspots available which can be checked out with our Chromebooks. For more information, please visit our webpage all about hotspots.
How do I use the Chromebook?
Turn on the Chromebook by pressing the power button in the upper right corner of the keyboard.
You may either use an existing Google login or the Guest option if you do not have one.
Follow the onscreen instructions to connect to a Wi-Fi network.
When not in use, the Chromebook will automatically go into sleep mode, or you can
shut it down.
Remember to charge the Chromebook to ensure that it is available for you when you want
to use it. To charge the Chromebook, plug the power adapter into the USB port and plug
into an outlet. The power level is indicated in the bottom left of the screen.
Problems? Please contact your local Springfield City Library location for assistance.