The Friends of the Springfield Library is a non-profit organization dedicated to supporting the work of the Springfield Library.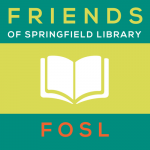 The Friends work to promote awareness of library resources, raise funds for special programming, and advocate on behalf of library interests. Your membership directly benefits the libraries. It helps to purchase essential materials such as books, computer programs, updated technology and also helps to ensure the continuance of excellent children's programs. Over 99% of your donation goes directly to these purchases and programs. Mailing costs are our only expenses.
Get Involved
Write:
Friends of the Springfield Library
c/o Director's Office
Springfield City Library
220 State Street
Springfield MA 01103
To join or donate to the Friends, print out the Friends of the Library Form!
You may donate to us digitally with PayPal or Debit / Credit Card by clicking the button below:
Click Here to Donate via PayPal