Hours
Directions
Contact Us
Holidays
Computers
Community Room
About
Sixteen Acres – 1187 Parker Street – Springfield MA 01129
MON
TUE
WED
THU
FRI
SAT
SUN
1—5
1—8
1—5
10—5
1—5
11—3
Closed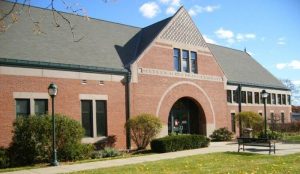 1187 Parker Street
Springfield MA 01129
Parking: The library has ample free parking and is handicapped accessible.
PVTA Bus Routes: B17
413-263-6858
Manager: Reggie Wilson
Supervisor: Lori Chasen
The Sixteen Acres Branch will be closed for the following holidays:
The libraries will be closed on the following 2020 holidays:
January 1, 2020 (Wednesday)
New Year's Day
January 20, 2020 (Monday)
Martin Luther King, Jr. Day
February 17, 2020 (Monday)
Presidents' Day
April 12, 2020 (Sunday)
Easter: Central Library closed
April 20, 2020 (Monday)
Patriot's Day (MA holiday)
May 25, 2020 (Monday)
Memorial Day
July 3, 2020 (Friday)
Independence Day (Observed)
July 4, 2020 (Saturday)
Independence Day
September 7, 2020 (Monday)
Labor Day
October 12, 2020 (Monday)
Columbus Day
November 11, 2020 (Wednesday)
Veterans Day
November 25, 2020 (Wednesday)
Thanksgiving Eve: All libraries close at 5 pm
November 26, 2020 (Thursday)
Thanksgiving Day
December 24, 2020 (Thursday)
Christmas Eve
December 25, 2020 (Friday)
Christmas Day
December 31, 2020 (Thursday)
New Year's Eve: All libraries close at 5 pm
For children:
two internet computers, one computer with pre-loaded games. Each session lasts 30 minutes. Children may have two sessions per day.
For adults: four internet stations with 30-minute sessions. Quiet study room has four additional computer stations, also with 30-minute sessions. Headphones are not provided. Earbuds are available at the Circulation desk for $1.
Fax Service: Fax service is available. There is a $1 per job charge for a traditional fax. We cannot receive faxes. There is no charge to scan your document to an email address, USB, tablet or smartphone.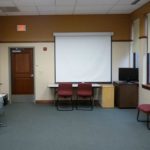 To promote neighborhood culture and development, the library makes its community room available for educational, social service, and other organizations. Visit the Meeting Room page for information about booking the Community Room, to review our meeting room rules and policies, and submit a meeting room request.

The Sixteen Acres Library was first opened in 1966. A much needed addition was built and the newly remodeled library opened in June of 2000.

Branch News
---
¡Únase al Club de Lectura del Verano 2020 para niñxs, adolescentes y adultxs en la Biblioteca de Springfield!
Branch programs
---

Register for an online Digital Skills for Job Seekers class series.

Share your favorite recipes in the Sixteen Acres Branch Library's new cooking club | Adults

Children are invited to read to Cadence, from Bright Spot Reading Buddies, in a small group setting.

Join us for stories, songs, movement, fingerplays, a craft, and playtime. | Children

Grab some needles and yarn, then come join us! Newcomers always welcome. | Adults

Would you like to make changes at the library? Join one of our Teen Advisory Boards and share your ideas. | Teens

If you are looking for a welcoming place to be after school, look no further.

Come join us for fun and learning. | Children

Improve your skills or just enjoy a game. | All Ages

Members are encouraged to share any conversation-provoking history books that they are reading with the group. | Adults

Drop in during open hours to learn and explore at our makerspace! | Children