Hours
Directions
Contact Us
Holidays
Computers
Community Room
About
Brightwood Branch – 359 Plainfield Street – Springfield MA 01107

MON
TUE
WED
THU
FRI
SAT
SUN
1-5
1-8
1-5
1-8
9-5
Closed
Closed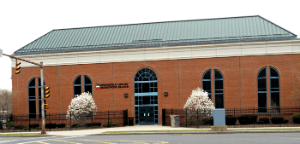 359 Plainfield Street
Springfield MA 01107
Parking: Free parking is available in the lot shared by the Library and Chestnut Accelerated Middle School. On-street parking is also available. The Children's area is on the right.
Book Drop: Located to the right of the main entrance, facing Plainfield St.
PVTA Bus Route: B4
---
413-263-6805
Manager: David Meeks
Supervisor: Haydee Hodis
The Brightwood Branch will be closed for the following holidays:
The libraries will be closed on the following dates for holidays:
January 1, 2023 (Sunday)
New Year's Day: Central Library Closed
January 2 (Monday)
New Year's Day (Observed)
January 16 (Monday)
Martin Luther King, Jr. Day
February 20 (Monday)
Presidents' Day
April 9 (Sunday)
Easter: Central Library closed
April 17 (Monday)
Patriot's Day (MA holiday)
May 29 (Monday)
Memorial Day
June 19 (Monday)
Juneteenth
July 4 (Tuesday)
Independence Day
September 4 (Monday)
Labor Day
October 9 (Monday)
Columbus Day / Indigenous Peoples' Day
November 10 (Friday)
Veterans Day (Observed)
November 11 (Saturday)
Veterans Day
November 22 (Wednesday)
Thanksgiving Eve: All libraries close at 5 pm
November 23 (Thursday)
Thanksgiving Day
December 24 (Sunday)
Christmas Eve: Central Library closed
December 25 (Monday)
Christmas Day
December 31 (Sunday)
New Year's Eve
January 1, 2024 (Monday)
New Year's Day
Computers: Eight internet computers, two computers with preloaded games. Each session lasts 30 minutes. Children may have two sessions per day. Headphones are not provided. Earbuds are available at the Circulation desk for $1.

To promote neighborhood culture and development, the library makes its community room available for educational, social service, and other organizations. The library also hosts community events such as musical performances, puppet shows, readings by authors, and exhibitions by illustrators and other artists. Visit the Meeting Room page for information about booking the Community Room, to review our meeting room rules and policies, and submit a meeting room request.

The beautiful Brightwood Branch Library is located in the heart of the Brightwood section of Springfield. The library is situated in the Chestnut Accelerated Middle School building across the street from the Benjamin Ramos Health Center.
Through its Collections and Services, the Brightwood Branch Library provides for the informational, educational, and leisure needs of the community.
Do you know how the Brightwood area got its name? Josiah Gilbert Holland (born in Belchertown, MA in 1819), doctor, author, poet, and early editor of The Springfield Republican, wrote his second narrative poem titled "Kathrina," in 1867 while staying at his new home in the north end of Springfield. He called his beautiful home ("painted a glowing Venetian red") Brightwood, and the name was soon applied to the whole section of the city. Interestingly J.G. Holland married Elizabeth Chapin, a good friend of Amherst poet Emily Dickinson. Mr. Holland died in New York City in 1881 and is buried in the Springfield Cemetery; his bronze profile wrought by Augustus Saint-Gaudens adorns his cemetery monument.
Branch News

Thank you for participating in our 2023 Discover Your Summer Reading Challenge. Check out a list of our winners!
April 24th marks National Library Workers Day. Thank you to all our dedicated Springfield Library workers for your tremendous service.
The Springfield City Library has partnered with the Boston Bruins to take part in the Bruins PJ drive that benefits children. The drive runs through March 15 at all nine library locations in the city.
---
Branch Programs