Hours
Directions
Contact Us
Holidays
Computers
Community Room
About
Central Library – 220 State Street – Springfield MA 01103
MON
TUE
WED
THU
FRI
SAT
SUN
12-8
9-5
12-8
9-5
CLOSED
9-5
12-5*
*Open Sundays between Labor Day and Memorial Day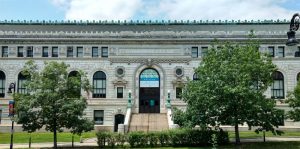 220 State Street
Springfield MA 01103
Parking: Visitors to the Central Library may park for free in the lot directly across State Street. A few accessible spaces are located in front of St. Michael's Cathedral (church next to the Central Library) on State Street. Accessible parking is also available in the small lot between the Smith Art Museum and the Science Museum (enter via the driveway to the right of the library, next to the Cathedral).
Book Drop: The book drop is located across State St. in the parking lot – take an immediate right when you enter the lot, and you will see the drive-up book drop ahead on the right. (There is no after-hours book drop on the side of the street with the library building, only the one in the parking lot.)
---
413-263-6828
Reference: ext. 213
Circulation: ext. 218
Children's Room: ext. 201
Manager, Borrowers' Services: Zach Bartlett
Manager, Adult and Youth Information Services: Diane Houle
Manager, Technical Services: Tom O'Connell

The Central Library will be closed for the following holidays:
The libraries will be closed on the following dates for holidays:
January 1, 2023 (Sunday)
New Year's Day: Central Library Closed
January 2 (Monday)
New Year's Day (Observed)
January 16 (Monday)
Martin Luther King, Jr. Day
February 20 (Monday)
Presidents' Day
April 9 (Sunday)
Easter: Central Library closed
April 17 (Monday)
Patriot's Day (MA holiday)
May 29 (Monday)
Memorial Day
June 19 (Monday)
Juneteenth
July 4 (Tuesday)
Independence Day
September 4 (Monday)
Labor Day
October 9 (Monday)
Columbus Day / Indigenous Peoples' Day
November 10 (Friday)
Veterans Day (Observed)
November 11 (Saturday)
Veterans Day
November 22 (Wednesday)
Thanksgiving Eve: All libraries close at 5 pm
November 23 (Thursday)
Thanksgiving Day
December 24 (Sunday)
Christmas Eve: Central Library closed
December 25 (Monday)
Christmas Day
December 31 (Sunday)
New Year's Eve
January 1, 2024 (Monday)
New Year's Day
Children: Six internet computers. Each session lasts 30 minutes. Children may have two sessions per day. Headphones are provided.
Adults and Teens: 24 computers available in Wellman Hall. Two one-hour sessions allowed per day with your valid library card or guest access. No headphones. Earbuds for $1 and flash drives for $5 are available at the Reference Desk.
Computer Lab: The computer lab on the lower level is reserved for computer classes.
Connect to WiFi: The Central Library provides access to WiFi for your personal device. Before you connect please read our Computer Use and Internet Access Policy. To connect, navigate to your WiFi settings and choose LibraryPublicHotspot.  Problems? Please ask a Librarian.
Fax Service: Fax service is available in Wellman Hall on the second floor of the Central Library. There is a $1 per job charge for a traditional fax. We cannot receive faxes.
Scanning: There is no charge to scan your document to an email address, USB, tablet or smartphone. To scan to your smartphone you must have a QR code app.
Mobile Printing: You can easily print on the Central Library's public printer during library hours from your home computer, laptop or mobile device. Imagine that! You don't have to be in the Central Library to print but you must pick up the print job on the same day during our open hours.
There are three ways to use our mobile printing option: (available during the library's open hours)
1. Visit our online printer portal, enter your email address, upload your document or URL and click on green printer icon
2. Send or forward the document as an attachment via email to scl-main-bw@printspots.com
3. Install the PrinterOn app for iOS or Android devices. Search 01103 or Springfield and select SCL Main Branch
Come to Wellman Hall at the Central Library on the same day during our open hours to retrieve your print job. (Note: The Central Library is closed on Fridays.) Black and white only; 15 cents a page. Consult a staff member for assistance.
Here is a list of supported file formats in a pdf file.

The Community Room and Computer Lab on the lower level are available to the public by application when these rooms are not needed for library purposes. The rooms may be reserved for use by educational, civic, cultural, and governmental groups. Visit the Meeting Room page for information about booking the Community Room or Computer Lab, to review our meeting room rules and policies, and submit a meeting room request.
The Central Library boasts large and varied collections, free wifi, and Internet access on public computers, plus many programs for children, teens and adults. Children's storytimes, book groups, and free computer classes are among the most popular. PDF document of the Central Library floor plan.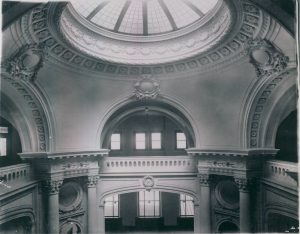 Since its opening in 1912, the Central Library, a "center of intellectual life," has given entrance to the State Street corridor. Solidly built of white Vermont marble with immense rooms and corridors, this library has a history of serving working people, at one time open 365 days per year! More than a collection of books and materials, it is an impressive yet inviting community-gathering space. The original 1871 red brick library building, temporarily and ingeniously moved back 200 feet while the current building was under construction, is long gone. Today's building, an Andrew Carnegie Library, was placed on the National Register of Historic Places in 1974. The Rotunda was restored to its original elegance in 1998; the building is on the State Historic Register and is part of the Quadrangle-Mattoon Historic District in the City. Also solid is the history of the men and women who have guided the library. In 150 years only eight library directors have preceded the current director, Molly Fogarty.
For more information about the history of the Central Library, download our brochure.
News
Thank you for participating in our 2023 Discover Your Summer Reading Challenge. Check out a list of our winners!
Election season is here for the city of Springfield, and Wednesday night residents had the chance to get to know the candidates a little better.
The free catalog offers Springfield high school yearbooks dating back as far as the 1900s. Since August 2022, the library has collected more than 400 yearbook donations.
---
Programs
Sing along to your favorite holiday songs with the students of STEP.
Central Library | 12/10/2023 @ 2:00pm