The Campaign for a New East Forest Park Branch Library

New photos from October 29 and September 21 just added!
ABOUT THE CAMPAIGN
FAMILY & PLANNED GIVING
CORPORATE GIVING
NEWS
STAY INFORMED
PHOTOS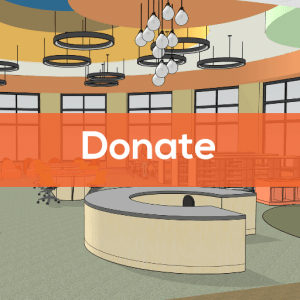 The goal of the Promise Realized Capital Campaign is to raise $2 million to support the construction and equipping of a new branch library in Springfield's East Forest Park neighborhood.
The Community Challenge is an especially vital component of the campaign:  the Springfield Library Foundation will match individual and family donations dollar for dollar. Supporters can double their impact instantly. As of August 2018, over $100,000 of the Community Challenge has been met. The Foundation hopes to reach the $250,000 goal by the end of the year.
The current East Forest Park location is the system's second busiest branch, despite crowded conditions, lack of high speed internet, difficult accessibility, and no meeting or event space. The branch has been struggling to operate out of a cramped 4,100sf space in a strip mall for the last 18 years. With so many Springfield families lacking computers, internet access, and financial resources, it's crucial that the neighborhood have a modern library that can meet the needs of all visitors. This campaign will help make that vision a reality.
About the New Library
Expected start of construction: September 2018
Formal groundbreaking ceremony: Monday, October 15, 2018 at 10:30 a.m.
Expected length of construction: 14 months
Architect: Johnson Roberts Associates, Inc.
Construction company: W.J. Mountford Co.
The new East Forest Park Branch Library will address all of the neighborhood's needs with quadruple the space for book and media collections, technology access, a large community room, dedicated space for teens, accommodations for adult learners, and a spacious children's department. The Library will be located next to the Mary A. Dryden Veterans Memorial School on Surrey Road and nearby Pope Francis High School.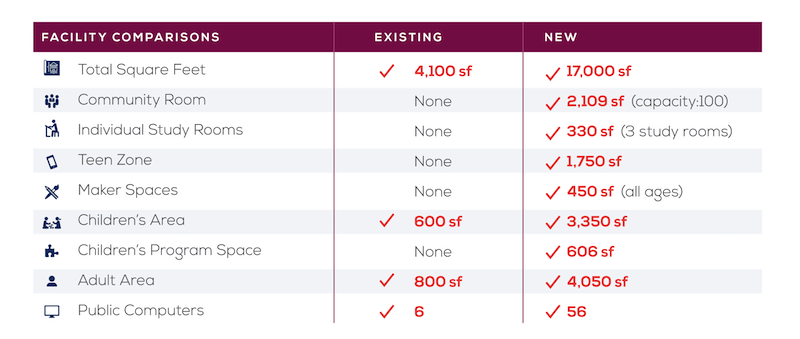 ---
Family Giving
The Promise Realized Campaign recognizes that many families have deep roots in the neighborhood and that there is a strong desire to give back and support the community. To that end, we have made it possible for children, siblings, parents, grandparents, aunts, uncles and cousins to join together to contribute to this vital community project AND to recognize and commemorate the family name.
Some steps to take:
Sign up to organize and coalesce a family gift.
Talk with a campaign volunteer about what Giving Opportunity might be right for your family.
Create a plan – when should you discuss this with your family members?
Distribute pledge cards to all you want to join in – Make sure you explain that pledges can be fulfilled over a five-year period.
Return pledge cards to the campaign office or the appropriate campaign volunteer.
Decide upon the wording you would like to see on your family's commemorative plaque.
Talk to others in the community about your family's commitment (You don't have to mention how much you are giving) and encourage them to join the campaign too.
Remember:
All gifts are tax-deductible to the fullest extent allowed by law.
If a family member works for a large corporation, they could be eligible for a corporate match!
Your family commitment will qualify for a dollar-for-dollar match by the Springfield Library Foundation.
Planned Giving
Check back for more information.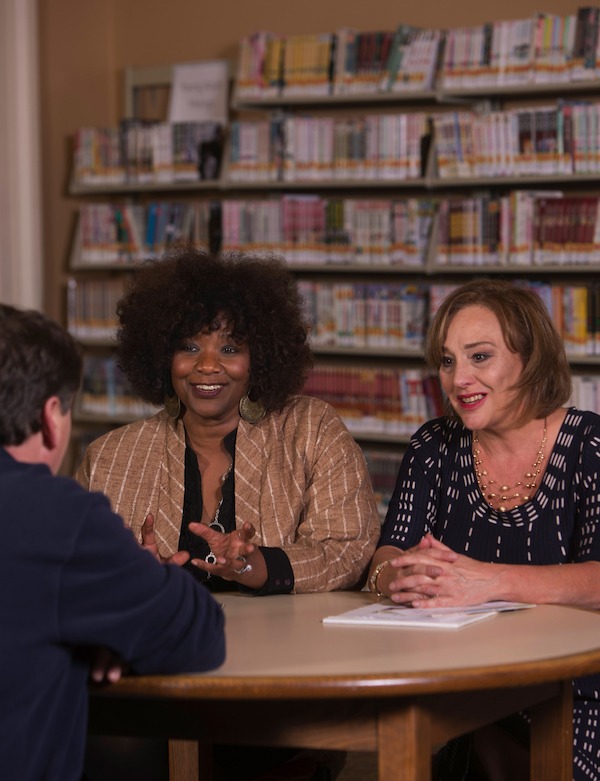 Corporate Giving
Many local companies have decided to give generously to the campaign to support the well being of the local community. If your company or foundation would like more information about corporate giving, please contact Campaign Director Matthew Blumenfeld at matthew@financialdevelopmentagency.com.
In March of 2018, city official gathered to recognize the MassMutual Foundation for a substantial campaign gift. A video summary is available below.
News, Interviews and Press Releases
10-30-2019
MASSLive.com, "Springfield students, donors get sneak peek inside East Forest Park library branch"
10-29-2019
City of Springfield, "Mayor Sarno Holds Preview Tour at New East Forest Park Branch Library"
10-29-2019
Western Mass News, "Community getting first look inside new Springfield library"
9-4-2019
City of Springfield, "Mayor Sarno Visits Construction Site of New East Forest Park Branch Library"
8-7-2019
MASSLive.com, "'Amazing': Springfield commissioners tour East Forest Park Library branch (photos, video)" by Peter Goonan
5-24-2019
MASSLive.com, "Local schools participate in a penny drive to support their new library" by Leon Nguyen
5-22-2019
News22 – WWLP.com, "Local campaign raising money for new East Forest Park library" by Sy Becker
The Reminder, "East Forest Park library project gets boost with donation," by G. Michael Hobbs
9-29-2018
WAMC – Northeast Public Radio, "Fundraising For New Library Tops $1 Million Mark," by Paul Tutill
9-27-2018
MASSLive.com, "New East Forest Park Library tops $1 million mark in private contributions," by Peter Goonan
7-27-2018
MASSLive.com, "Springfield officials pleased with construction bids for East Forest Park branch library," by Peter Goonan
7-26-2018
The Reminder article, "New library campaign is turning to residents," by G. Michael Dobbs
7-9-2018
WAMC- Northeast Public Radio, "Bids Sought To Build New Branch Library In Springfield," by Paul Tuthill
6-15-2018
MASSLive.com, " Springfield taking bids on new East Forest Park branch library construction," by Peter Goonan
6-12-18
City of Springfield Press Release, "City of Springfield Announces Construction Bid to Build East Forest Park Branch Library"
6-9-18
News22 – WWLP.com, "Springfield residents gather to 'imagine' their new library"
6-9-18
MASSLive.com, "Springfield City Library invites East Forest Park residents to 'imagine' new branch location," by Shannon Young
4-2-18
WAMC- Northeast Public Radio, "Planned Library Gets Boost From MassMutual Foundation," by Paul Tuthill
3-29-18
MassMutual.com, Massachusetts Mutual Life Insurance Company Press Release – "Promise Realized Campaign Announces $250,000 Grant: MassMutual Foundation Proud To Support Community Revitalization"
3-22-18
WGBY.org, Connecting Point interview – "New East Forest Park Library Coming to Springfield, MA" – Carolee McGrath sat down with Molly Fogarty, Director of Springfield City Library; Pat Markey, President of the Springfield Library Foundation; and Beth Hogan, President of the East Forest Park Civic Association to get the details on the new East Forest Park Library branch.
3-8-18
MASSLive.com, Op-Ed Commentary – "Public sees latest plans for new East Forest Park library," by Patrick Markey and Molly Fogarty
11-16-17
The Reminder article, "New Springfield East Forest Park library marks leap into 21st century," by Debbie Gardner
10-23-17
Springfield City Library Press Release: "Library Foundation Announces $250k Matching Grant," by Jessica Perez Blasko
9-12-17
City of Springfield Press Release: "Springfield Library Foundation Announces $2 Million Capital Campaign," by Marian Sullivan