Hours
Directions
Contact Us
Holidays
Computers
Community Room
About
Mason Square Branch – 765 State Street – Springfield MA 01109

MON
TUE
WED
THU
FRI
SAT
SUN
1-5
1-5
10-5
1-8
1-5
11-3
Closed
765 State Street
Springfield MA 01109
Parking: Free parking is available in the side lot on Hawley Street and the back lot on Monroe Street, across from DeBerry School. Enter the glass breezeway from either the front or the back of the building.
Book Drop: Located in the side parking lot off of State Street, accessible by Hawley Street.
413-263-6853
Manager: Diane Houle
Supervisor: Gregg Mitchell

Book a Librarian: For assistance with basic computing, job searching, homework, resume writing, trouble-shooting your computer, or just figuring out how to use your gosh-darn smart phone – Book-A-Librarian. To reserve a one-on-one session speak with Mason Square's adult reference librarian. They can be reached at the branch's reference desk or by phone at 413-263-6853.
The Mason Square Branch will be closed for the following holidays:
The libraries will be closed on the following dates for holidays:
January 1, 2023 (Sunday)
New Year's Day: Central Library Closed
January 2 (Monday)
New Year's Day (Observed)
January 16 (Monday)
Martin Luther King, Jr. Day
February 20 (Monday)
Presidents' Day
April 9 (Sunday)
Easter: Central Library closed
April 17 (Monday)
Patriot's Day (MA holiday)
May 29 (Monday)
Memorial Day
June 19 (Monday)
Juneteenth
July 4 (Tuesday)
Independence Day
September 4 (Monday)
Labor Day
October 9 (Monday)
Columbus Day / Indigenous Peoples' Day
November 10 (Friday)
Veterans Day (Observed)
November 22 (Wednesday)
Thanksgiving Eve: All libraries close at 5 pm
November 23 (Thursday)
Thanksgiving Day
December 24 (Sunday)
Christmas Eve: Central Library closed
December 25 (Monday)
Christmas Day
January 1, 2024 (Monday)
New Year's Day
Computers:
Nineteen (19) internet computers are available. Each session lasts 30 minutes. Children may have two sessions per day. Headphones are provided in the children's area only. Earbuds are also available at the Circulation desk for $1.
Fax Service: Fax service is available. There is a $1 per job charge for a traditional fax. We cannot receive faxes. There is no charge to scan your document to an email address, USB, tablet or smartphone. To scan to your smartphone you must have a QR code app.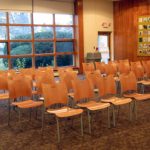 To promote neighborhood culture and development, the library makes its community room available for educational, social service, and other organizations. Visit the Meeting Room page for information about booking the Community Room, to review our meeting room rules and policies, and submit a meeting room request.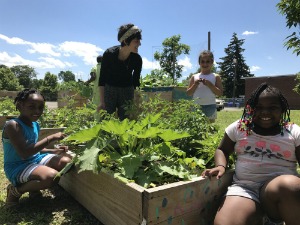 In 1943 the Winchester Square (now known as Mason Square) area of Springfield Massachusetts was a prosperous and diverse community, with thriving businesses, active churches, and excellent schools and colleges. Not surprising then, that in March of that year, library advocates pulled together and pushed for the establishment of a branch library in the area. On April 12 the Library leased space at 826 State Street, and an "agency" of the Springfield City Library opened on May 18. Growing from a deposit collection housed in a rented storefront to a library agency one month later, it soon became apparent that a full service library was necessary. (After only one month, book circulation was higher than at three older branches!) In the fall of 1950 neighborhood residents were concerned that their library might be closed due to budget issues so parents, children, and teachers from the area's seven schools worked together to keep Winchester Square from being without a branch library. They succeeded beyond their expectations and in May of 1951 the branch was relocated to a much larger space, 21 Catharine Street, with over 300 people visiting on the May 23 Opening Night.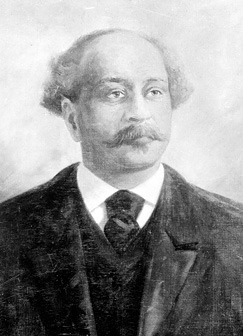 Often visiting this branch for books was an elderly neighborhood resident, Annie G. Curran. Annie was born in Springfield during the Civil War, was quite independent, even owning one of the earliest cars in the city, and yet lived a simple life. She enjoyed sewing, listening to the radio, and reading, especially about local and national current events. Outliving three husbands, and investing monies left to her, she stunned the City upon her death in April of 1952 by leaving over one million dollars to establish and operate a full service branch library in the Winchester Square area, yet wanted no glory for herself. She did not want the new library named after her, but simply a "real full service library with meeting space."
When it opened in September of 1955, at 765 State Street, the modern design made the new Winchester Square Branch Library a unique and inviting space for all ages, boasting an outdoor Reading Garden, children's outside story area, and spacious auditorium able to accommodate as many as 200 children to watch a movie. The main reading space included built-in ceiling speakers so patrons could listen to music as they browsed the book collections. The following year the Library's one-floor design was given an award by the Easter Seal Society, noting its lack of stairs, nice wide doors and easy-reach bookshelves as a "boon to handicapped and heart patients particularly."
The Springfield Library and Museums Association operated all branches of the library system until February 2003 when the Library became a City Department. The building had been sold to the Urban League of Springfield in 2001 and the Community Room held the library, while the remainder of the building became the Urban League headquarters. The Library continued to serve residents, albeit on a much more limited basis. Still, the Mason Square Branch has been a vital part of this neighborhood since its inception. Residents have supported and steadfastly defended it, most recently working and planning while the eminent domain process played out. The City recovered ownership of 765 State Street allowing the library to again provide services in the entire building. The Springfield Library Foundation, guardians of the Annie G. Curran Endowment, allocated $1.5 million in the fall of 2010 to renovate and refurbish the building, and the "new" Mason Square Branch Library celebrated its grand reopening in April of 2011, fittingly during National Library Week.
For more about the history of the Mason Square Branch, download our brochure.
Click here to learn more about our Seed Library!
Branch News
---
Mayor Domenic J. Sarno joined with Springfield City Library Director Molly Fogarty, Assistant Director for Public Services Jean M. Canosa Albano, and the dedicated staff of the Mason Square Library Branch to celebrate National Library Week on Wednesday, April 26th.
April 24th marks National Library Workers Day. Thank you to all our dedicated Springfield Library workers for your tremendous service.
The Springfield City Library has partnered with the Boston Bruins to take part in the Bruins PJ drive that benefits children. The drive runs through March 15 at all nine library locations in the city.
Branch Programs
---

Join us for Discover Your Summer: Summer Reading kickoff parties, live music, animal programs, crafts, and more! | All Ages