ONLINE via Zoom
Saturdays once a month | 10:00-11:00 AM | Adults

Dates coming up:
October 22
November 19
December 17
January 28
February 25
March 25

CLICK FOR ZOOM LINK for meeting each month.
Join us for the Romance Book Club! We read as many romance genres as we can, sharing our thoughts and expanding our romance reading experience. As long as it has a Happily Ever After, it's fair game.
Typically each month we choose the book for the following month.

October Book Choice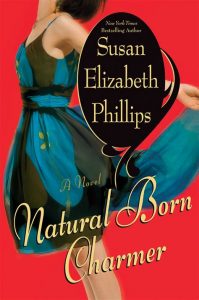 We will be reading
Natural Born Charmer by Susan Elizabeth Phillips
.
Chicago Stars quarterback Dean Robillard is the luckiest man in the world: a bona-fide sports superstar and the pride of the NFL with a profitable side career as a buff billboard model for End Zone underwear. But life in the glory lane has started to pale, and Dean has set off on a cross-country trip to figure out what's gone wrong. When he hits a lonely stretch of Colorado highway, he spies something that will shake up his gilded life in ways he can't imagine. A young woman . . . dressed in a beaver suit.
Blue Bailey is on a mission to murder her ex. Or at least inflict serious damage. As for the beaver suit she's wearing . . . Is it her fault that life keeps throwing her curveballs? Witness the expensive black sports car pulling up next to her on the highway and the Greek god stepping out of it.
But Dean isn't the brainless jock she imagines, and Blue—despite her petite stature—is just about the toughest woman Dean has ever met. They're soon heading for his summer home where their already complicated lives and inconvenient attraction to each other will become entangled with a charismatic but aging rock star; a beautiful fifty-two-year-old woman trying to make peace with her rock and roll past; an eleven-year-old who desperately needs a family; and a bitter old woman who hates them all.
As the summer progresses, the wandering portrait artist and the charming football star play a high-stakes game, fighting themselves and each other for a chance to have it all.
Catalog link (paper book) – Regular Type and Large Type
CWMARS OverDrive (e-book) – email or call us for help finding it from additional library systems
CWMARS OverDrive (e-audiobook) – email or call us for help finding it from additional library systems
Hoopla link (e-book) and Hoopla link (e-audiobook) – instant downloads, no waiting, with a Springfield City Library card
See previous group book choices below the group guidelines – scroll down.
Our Romance collection librarian will tell you all about exciting additions to the collection, and we'll get your input on what you'd like to see more of and what we should read.

Register if you'd like to be added to our email list, but no registration is required – just join us at the Zoom link, above. For adults 18+.
Please email Elizabeth McKinstry at emckinstry@springfieldlibrary.org or Anna Mickelsen at amickelsen@springfieldlibrary.org if you have any questions, or call either one of us at 413-263-6828 x213.
---
Group Guidelines
The book group will meet monthly via zoom to discuss books in the romance genre. Our definition of romance includes both HEA (Happily Ever After) and HFN (Happy For Now) endings. We will discuss what we read on our own, talk about forthcoming titles, and also pick books to read as a group, either voting on titles prepared by group leaders or taking turns selecting titles.
This book group will strive to be a safe and inclusive space. Racist and homophobic remarks will not be tolerated, and the group may set other content lines to be drawn in discussion or in reading material (e.g., mentions of self-harm, gore, sexual assault) in order to make the experience as fun for all participants as possible. As this is a romance book group, it should be assumed that books read and discussed will often include sex, sometimes explicit in nature.
Book group leaders will:
Read the entire book
Gather information to help enhance the discussion
Be prepared to offer counter opinions – even if they differ from our own
Be prepared to begin new lines of discussion when necessary
Not let one person monopolize the discussion
Be willing and prepared to take control of the group, firmly but respectfully
Book group participants will:
Make their best effort to complete the book
Come ready to both share and listen
Be ready to back up opinions with the "why"
Have a great time — if you stop enjoying it, let the leader know
---
Previous books read:
September 2022 – Neon Gods, Katee Robert (Fantasy Hades/Persephone Romance)
August 2022 – Fatal Affair, Marie Force (Romantic Suspense)
July 2022 – Never Been Kissed, Timothy Janovsky (Contemporary New Adult Queer Romance)
June 2022 – Polaris Rising, Jessie Mihalik (Science Fiction Romance)
May 2022 – Luckiest Lady in London, Sherry Thomas (Historical Romance)
April 2022 – Writing Her In, Holley Trent (Polyamorous Romance)
March 2022 – A Cowboy to Remember, Rebekah Wetherspoon (Contemporary Black Cowboy Romance)
February 2022 – Battle Royal, Lucy Parker (Contemporary British Romance)
January 2022 – Every New Year, Katrina Jackson (Holiday Second-Chance Contemporary Romance)
November and December 2021 – The Matzah Ball, Jean Meltzer (Holiday Contemporary Romance)
October 2021- How To Bang A Billionaire, Alexis Hall (Billionaire M/M Romance)
September 2021 – Deal With The Devil, Kit Rocha (Science Fiction Romance)
August 2021 – Gray Hair, Don't Care, Karen Booth (Second Chance Romance)
July 2021 – Angel's Blood, Nalini Singh (Paranormal Romance)
June 2021 – Entangled, Melissa Brayden (Contemporary Lesbian Romance)
May 2021 – The Obsession, Nora Roberts (Contemporary Romantic Suspense)
April 2021 – Destiny's Embrace, Beverly Jenkins (Historical Romance)
March 2021 – Loathe At First Sight, Suzanne Park (Contemporary Romance)
February 2021 – Reader's Choice