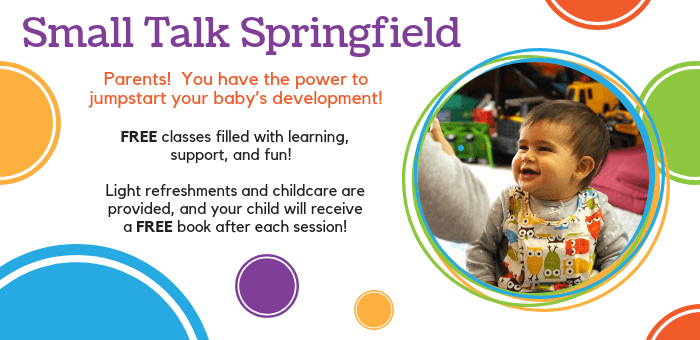 Sign up for Small Talk and participate in 13 FREE classes filled with learning, support and fun! Light refreshments and childcare are provided, and your child will receive a FREE book after each session.
About the classes: We're providing a new program where you can learn how to help your baby's brain grow through talk and play. Everything is free!
Benefits of Participating:
You will learn fun new ways to talk, read and play with your baby and receive feedback with an exciting new talk pedometer.
You will learn how these skills help your baby's brain grow.
You will receive free baby supplies – and a chance to win gift cards!
Sign up if:
 Your child is 0-32 months old.
You have access to a cell phone.
Your schedule allows you to commit to attending the classes and completing the word counter recordings.
Join us!
We are always adding new sessions. Call to sign up or to ask questions.
Contact information:
Diane Houle
413-263-6828 x 293
dhoule@springfieldlibrary.org