Sixteen Acres Branch
One Tuesday a month (See upcoming dates below) | 6:30-7:30 PM | Adults 18+
Join this long-running book group of reading enthusiasts! Newcomers welcome. The group reads mostly contemporary novels, although occasionally historical fiction, adventures, and some non-fiction. The book club members jointly choose upcoming books. Check below for this month's book! No registration required, just drop by.
Upcoming Selections:
December 20 – Skipping Christmas
by John Grisham – (2001) fiction
Imagine a year without Christmas. No crowded shops, no corny office parties, no fruitcakes, no unwanted presents. That's just what Luther and Nora Krank have in mind when they decide that, just this once, they'll skip the holiday altogether. Theirs will be the only house on the street without a rooftop Frosty the snowman; they won't be hosting their annual Christmas Eve bash; they aren't even going to have a tree. They won't need one, because come December 25 they're setting sail on a Caribbean cruise. But, as this weary couple is about to discover, skipping Christmas brings enormous consequences – and isn't half as easy as they'd imagined.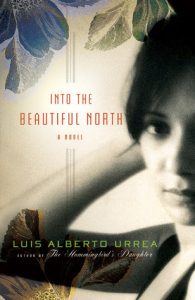 January 17 – Into the Beautiful North
by Luis Alberto Urrea – (2010) fiction
Nineteen-year-old Nayeli works at a taco shop in her Mexican village and dreams about her father, who journeyed to the US when she was young. Recently, it has dawned on her that he isn't the only man who has left town. In fact, there are almost no men in the village–they've all gone north. While watching The Magnificent Seven, Nayeli decides to go north herself and recruit seven men–her own "Siete Magníficos"–to repopulate her hometown and protect it from the bandidos who plan on taking it over.