Hours
Directions
Contact Us
Holidays
Computers
About
East Forest Park Branch – 122 Island Pond Road – Springfield MA 01118
MON
TUE
WED
THU
FRI
SAT
SUN
1—5
1—5
1—8
1—5
10—5
11—3
Closed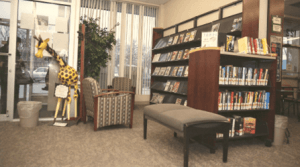 122 Island Pond Road
Springfield MA 01118
Parking: Free parking is available in the shopping plaza lot.
PVTA Bus Route: X92
---
413-263-6836
Manager: Maeleah Carlisle
Supervisor: Linda Grodofsky
The East Forest Park Branch will be closed for the following holidays:
The libraries will be closed on the following 2018 / 2019 holidays:
September 3, 2018 (Monday)
Labor Day
October 8, 2018 (Monday)
Columbus Day
November 11, 2018 (Sunday)
Veterans Day
November 12, 2018 (Monday)
Veterans Day (observed)
November 21, 2018 (Wednesday)
Thanksgiving Eve: All libraries close at 5 pm
November 22, 2018 (Thursday)
Thanksgiving Day
December 24, 2018 (Monday)
Christmas Eve
December 25, 2018 (Tuesday)
Christmas Day
January 1, 2019 (Tuesday)
New Year's Day
January 21, 2019 (Monday)
Martin Luther King, Jr. Day
February 18, 2019 (Monday)
Presidents' Day
April 15, 2019 (Monday)
Patriot's Day (MA holiday)
April 21, 2019 (Sunday)
Easter: Central Library closed
May 27, 2019 (Monday)
Memorial Day
July 4, 2019 (Thursday)
Independence Day
Computers: Four internet computers are available. An AWE computer for children is also available. All users may have two half-hour sessions per day. Headphones are not provided. Earbuds are available at the Circulation desk for $1.
The East Forest Park Branch Library was officially opened in April of 2000. Neighborhood groups had been asking for a branch in the East Forest Park section of Springfield since the early 1950s. A former video store was creatively redecorated into a beautiful library branch located in a mini mall with free parking and is fully handicapped accessible.

Branch News
---
September 5 – Author of contemporary fantasy books for kids and teens.
0 comments
Come to the Springfield City Library during our 2-week series to learn more about organizations such as SBA, SCORE, Valley Venture Mentors and more.
0 comments
Branch Programs
---
Join us for stories, songs, movement, and a craft. | Children
0 comments