Springfield Central Library, 220 State Street, Springfield, MA
Wednesday, September 16, 2015
1:00 – 5:00 p.m.
1:00-2:00 p.m. How to Dress for Success and Ace your Job Interview
Central Library Community Room (ground floor)
Finding employment can be challenging, especially in today's ever-evolving job market. But don't worry, Dress for Success and Suit Up Springfield have got you covered. "How to Get Attention in Today's Job Market" helps job seekers better align their skills, experience, and goals with employer expectations. This workshop offers insights on how to complete online applications, dress for your interview, and strategies to stick out among fellow job candidates. We'll also share cutting-edge interviewing techniques and advice on how to handle the most common interview questions.
2:00-4:00 p.m. Resume Critique
Wellman Hall (second floor)
Librarians from the City Library will take a look at your resume and provide valuable feedback to help you create an impressive resume. Our expert staff is also very knowledgeable concerning any classes, databases, or services that the library has to help job seekers find employment.
3:00-5:00 p.m. Career Fair
Rotunda (second floor)
Bring your resume and talk with these area employers about working for their company!
AMR (American Medical Response)
Avon Products
Bay Path University
Bay State Health
Center for Human Development
City of Springfield School Department
Command Security
Dept. of Elder Services
F. L. Roberts
Griffin Staffing Network
Home Instead Senior Care
Human Resources Unlimited
Porch Light VNA Home Care
Performance Food Group
Reliable Temps
Sears
Sodexo
Springfield Partners for Community Action
Springfield School Dept.
TD Bank
United Personnel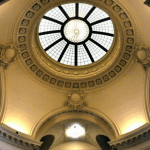 Stop in and Meet with Representatives from:
Rotunda (second floor)
Bay Path University – "At Bay Path, classroom learning and real life experience combine for a meaningful education. From our founding more than 100 years ago, we have emphasized a career-focused curriculum that prepares people to become professionals and leaders in their field."
Center for Human Development – "Are you looking for a job that inspires you every day? A job with meaning and purpose? Then you're the kind of person CHD is looking for! As the region's leading social services organization, CHD employs over 1,400 people – all dedicated to making life better for everyone living in our communities. You'll love working at CHD!"
Dress for Success – Is a non-profit agency that promotes the economic independence of disadvantaged women by providing professional attire, a network of support and the career development tools to help women thrive in work and life.
Holyoke Community College – "HCC is rich in opportunity, but very affordable. And with our small class size and dedicated faculty and staff, it's hard to find a better value anywhere. Holyoke Community College—the opportunities you want; the future you're looking for."
The Job Corps – We are a free educational and training program that helps young people find a career, earn a high school diploma or GED, and find and keep a good job. (For those 16 years of age that qualify as low income.)
Springfield College – "For more than a century, Springfield College has been a leader in providing a broad and balanced educational experience. Humanics, the philosophy that has inspired Springfield College from its beginning, calls for educating the whole person—spirit, mind, and body—for leadership in service to others. A broad range of educational opportunities, both undergraduate and graduate, are offered at the main campus."
Springfield Technical Community College – "STCC is devoted to helping individuals achieve their goals. STCC has a remarkably extensive selection of degree programs, degree options and certificate programs (over 100, as a matter of fact!) – many of which are not available anywhere else in the region."